Pequannock River Coalition Selected for Their Innovative Temperature Monitoring Program
April 03, 2003 (rt23 news) - (Newfoundland, NJ) Each year regional offices of the U.S. Environmental Protection Agency honor groups and individuals that have shown "an outstanding commitment to protecting and enhancing environmental quality." According to the EPA, those chosen for the award have demonstrated a significant contribution to improving environmental quality, a high achievement level, and produced unique or location-specific benefits. For 2003 the Pequannock River Coalition was selected for their innovative temperature monitoring program.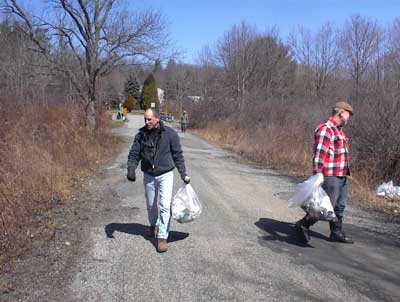 PRC Executive Director Ross Kushner and local volunteers participate in the Pequannock River Coalition's 2003 Spring Cleanup on Davenport Road in Jefferson, New Jersey - April 6, 2003 (photo courtesy of the Pequannock River Coalition)
Like many waterways in northern New Jersey the Pequannock River and most of its tributaries are classified as either FW2-TM "trout maintenance" or FW2-TP(C1) "trout production" under the New Jersey Surface Water Quality Standards and are extremely sensitive to changes in water quality. In recent years problems encountered with this water quality were typically "non-point" in nature, where escalating development with corresponding deforestation, increased impervious coverage, higher stormwater runoff rates and loss of groundwater recharge caused substantial degradation. This was compounded by manipulation of river flows in water supply reservoir releases causing high water temperatures which, as occurred on the Pequannock in 1994 - 1995, resulted in major fish kills.
In response, since 1994 the Pequannock River Coalition has engaged in an intensive temperature monitoring program that has allowed them to identify river segments and tributaries with problems as well as those with healthy flows. The program was stringent enough to earn the group accreditation in 2002 as a laboratory from the New Jersey Department of Environmental Protection (NJDEP).
This data was incorporated in the 2002 development of the New Jersey 303(d) list of impaired waterbodies as the only non-government source. In addition they are also proud of their our other initiatives and programs that have increased public involvement, awareness and support for river preservation including river cleanups tours, hikes, publications and advocacy campaigns.
These awards will be presented at the EPA office in lower Manhattan on April 24th.
For more information, contact the Pequannock River Coalition, P.O. Box 392, Newfoundland, NJ (973-492-3212) or via their website at
www.pequannockriver.org
or the US EPA at 290 Broadway, New York, NY (212-637-3597) or via their website at
www.epa.gov/region02
. Posted by:
Staff at rt23.com
Website:
Pequannock River Coalition
April 03, 2003
15:02:59