"Remembrance and Rebirth"
The Essex County September 11, 2001 Memorial at Eagle Rock Reservation
Scores of people watched the September 11 attacks on New York City from atop Eagle Rock Reservation in West Orange, New Jersey. To commemorate this tragic event and the people who lost their lives, a beautiful memorial was dedicated on October 20, 2002. The Essex County memorial overlooks the New York Skyline. The centerpieces consist of a bronze bald eagle with a eight foot wing span perched on a tree, a book with the names of those lost from Essex County, and a girl, Gabrielle, with a teddy bear. On either side are a fireman's helmet and a police officer's hat. Off to the left is a teenage boy holding a lantern and gazing toward the skyline with the words "Remembrance and Rebirth" on the pedestal. The concrete barrier wall was replaced by polished granite with the names and hometowns of all who were lost in the attacks. There is also seven dogwood trees along a side path for each of the four hijacked planes, the Pentagon and the two World Trade Center Towers.
The Essex County Memorial was designed and built by sculptor and artist Patrick Morelli. A resident of nearby Cedar Grove, Patrick Morelli also created "Behold ", a ten foot sculpture which overlooks the tomb of Dr. Martin Luther King at the King National Historic Site in Atlanta, Georgia. He has won awards for including the National Sculpture Society's Barrett-Cole Foundry Prize and his work is part of the permanent collection at the National Gallery of American Art. At the dedication of the Eagle Rock memorial, Patrick Morelli said "It is up to us to give meaning to this terrible tragedy" asking those assembled to select a name from the wall and perform a good deed in that person's name.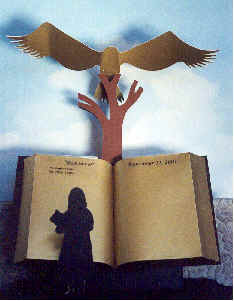 Full scale model of the memorial issued in press release on December 6, 2001
---
Photo Gallery