Huge Flotilla of Kayaks and Canoes Celebrate Event
June 08, 2008 (rt23 news) - On June 7th the Pequannock River Coalition hosted the grand opening of their "Three Rivers Trail." This new river trail, encompassing sections of the Pequannock River, Pompton River and Ramapo River, runs across parts of Riverdale, Pompton Lakes and Pequannock.
Ross Kushner, executive director of the Pequannock River Coalition said "The concept is to strengthen the connection between these rivers and the public. People can only appreciate what they actually experience. Although a few boaters have been enjoying these waterways already, that activity has been a process of trial and error. The goal here was to map out a specific route, develop access points, post the needed signs and do whatever was necessary to make the boating safer and more enjoyable. We believe we have succeeded."
More than 50 boaters came out for the kick-off event on Saturday in a huge flotilla of canoes and kayaks. Despite low water and extremely hot weather the opinion of the new trail among participants was a resounding thumbs up.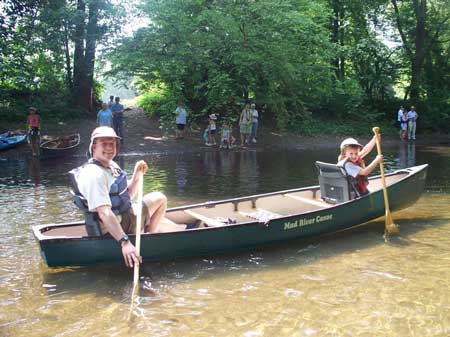 "I've lived in this area my entire life and never knew this was available," said one kayaker. "It's a wonderful trail. The Coalition should be congratulated."
"This is not a wilderness route," Kushner said, "but the serenity and beauty are surprising. In the time we spent on these rivers developing the trail we've encountered mink, deer, coyotes, 4 species of heron, a variety of ducks, hawks and scads of songbirds. The wildlife is impressive. And there is definitely a need for this. To have more than 50 people come out for a river trip is extraordinary."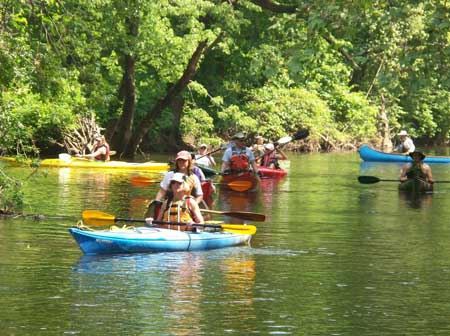 Funding for development of the trail was provided by the Watershed Institute and the members of the Pequannock River Coalition. Alyse Greenberg of the Watershed Institute attended the river trip on June 7th and was delighted with the trail and the turnout. "I'm always pleased to see these projects come to fruition. And to have this many boaters was fantastic."
Also present for the opening ceremony were Mayor Nicholas Kapotes and Councilman Ed Engelbart of Pequannock Township, who spoke in support of the trail and how this aligns with their own efforts to preserve and improve the rivers in their community.
As detailed in the published guide for the trail there are two main launch points on the Pequannock River - one in Riverdale and one in Pompton Lakes - providing entry to the river route. The final take-out point is in Pompton Lakes on the Ramapo River. Printed copies of the "Three Rivers Map and Guide" will be available at the municipal offices in Riverdale, Pompton Lakes and Pequannock. It will also soon be on the Pequannock River Coalition's website at www.pequannockriver.org.
For more information on the trail or the Coalition's other activities please visit their website, phone them at (973) 492-3212, send an email to pequannockriver@optonline.net, or write them at PO Box 392, Newfoundland, NJ 07435. Posted by:
Staff at rt23.com
June 08, 2008
09:51:01