State Income Tax Check-off Supports Critical Work Protecting Species
March 04, 2013 (rt23 news) - (13/P15) TRENTON –The Department of Environmental Protection's Division of Fish and Wildlife today released a rehabilitated bald eagle at a Morris County golf course to draw attention to the 40th anniversary of the state's endangered species protection law. The annual state income tax check-off provides critical support to efforts such as this.
"The health of our wildlife populations is a good indicator of the overall health of the environment," said Division of Fish and Wildlife Director David Chanda. "Since the enactment of the Endangered and Nongame Species Conservation Act of 1973, we have had many success stories in New Jersey, such as the return of the bald eagle from nearly being wiped out in New Jersey to more than 110 pairs successfully raising a record 165 offspring in 2012."
To mark the anniversary and draw attention to the income tax check-off, the Division of Fish and Wildlife released a four-year-old male bald eagle that was rehabilitated by the nonprofit Raptor Trust. The eagle was found in January with a severely dislocated wing on a roadside along the Oak Ridge Reservoir in Morris County. The release took place at the Morris County Park System's Berkshire Valley Golf Course.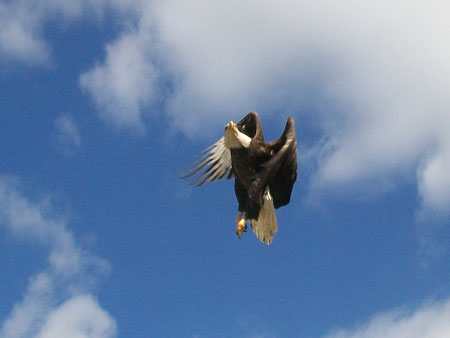 Rehabilitated Bald Eagle shortly after release
The Endangered Wildlife Fund check-off is located on Line 59 of Form NJ-1040. Taxpayers are provided the option of contributing $10, $20, or an amount of his or her choosing, toward protection of threatened and endangered species.
The state's Endangered and Nongame Species Conservation Act was signed into law on December 14, 1973, two weeks before President Nixon signed the federal Endangered Species Act.
As a result of the state law, the Division of Fish and Wildlife established the Endangered and Nongame Species Program to carry out the work necessary to restore and maintain these species.
New Jersey currently lists 37 species as endangered, including the bald eagle, red knot, piping plover, bog turtle and eastern tiger salamander. Thirty-two species are listed as threatened, including the yellow-crowned night heron, osprey, wood turtle, and northern pine snake.
Check-of funds go to support wildlife conservation programs and are used to match or leverage funds from the federal government's State Wildlife Grants program. The sales of Conserve Wildlife license plates also help fund the program.
"Donating a small portion of your tax refund to the Endangered Wildlife Fund will go directly to help safeguard our state's rich fish and wildlife heritage and habitat for future generations to enjoy by supporting research and monitoring, improving management on public and private lands, combating invasive species, addressing wildlife disease problems, and protecting native habitats" said Kelly Mooij, Vice President of Government Relations for the New Jersey Audubon Society.
In addition to the New Jersey Endangered Wildlife Fund, taxpayers may choose to designate contributions to other worthwhile programs. Details are included in the Form 1040 instructions. Contributions to any of these check-off funds will reduce your refund commensurately.
Additional information about the restoration of New Jersey's bald eagles, ospreys and peregrine falcons, is available at http://www.njfishandwildlife.com/ensp/raptor_info.htm.
For more on the Endangered and Nongame Species Program, including facts on species that the program works to protect, visit: http://www.nj.gov/dep/fgw/ensphome.htm
For a webcam of an eagle nest at Duke Farms in Hillsborough, visit: www.ustream.tv/channel/eagle-cam. This nest has successfully produced young every year since observations began in 2005.
The bald eagle being released today was admitted to The Raptor Trust on January 17, 2013, after being found by Bergen County Animal Control on the side of the road in Emerson, NJ. Upon examination, we determined that the eagle was suffering from a luxated left wrist, and a slight fracture of the left metacarpal bone. The cause of the injury is unknown, but due to the eagle's subdued demeanor during the early weeks of rehabilitation, it appears to have suffered an impact injury.
Given the eagle's relatively small size for its species, it is most likely a male. The flecks of brown in his head and tail feathers indicate that he is a four-year old that will reach full adulthood in the coming spring.
A joint luxation is a serious diagnosis in a case like this. Treatment involves wrapping the wing to stabilize and immobilize the joint to allow it time to heal, with periodic examinations to evaluate the healing process and stretch the wing while the bird is temporarily under anesthesia. There is no guarantee that the joint will recover, so a patient like this has a very guarded prognosis for the duration of its time in our care. On February 20, after 5 weeks of rehabilitation, we were finally able to move the eagle to one of our large flight aviaries for conditioning-where we were happy to see that he flew straight up to a high perch. We have watched his steady improvement with cautious but increasing hope that we would have the opportunity that we do today to give this impressive"bird a second chance to soar.
We are also grateful to have the opportunity to honor the NJ DEP's Endangered and Nongame Species Program with today's release. We thank them for their work on behalf ofthe bald eagle and all of NJ's threatened and endangered wildlife. Wildlife belongs to no one, but it is everyone's responsibility, and we hope today's release will inspire more public support of the Endangered Wildlife Fund.
Founded in 1983, the Raptor Trust is one of the premier avian rehabilitation centers in the country. The nonprofit center cares for up to 4,000 injured and orphaned wild birds each year, with the primary goal of releasing as many as possible back to the wild. The center also maintains 50 non-releasable hawks, eagles, falcons, and owls for educational purposes at its Millington facility. It is open to the public 365 days a year, both to receive injured birds for care and to welcome visitors to view the resident birds of prey that have a permanent home at the center. For more information, visit www.theraptortrust.org.
Posted by:
rt23 staff
Website:
Raptor Trust
March 04, 2013
17:42:18