Join Our Mailing List
Keep informed about North Jersey happenings!




---
One of the most delicious summer crops in New Jersey is the sweet white corn.
---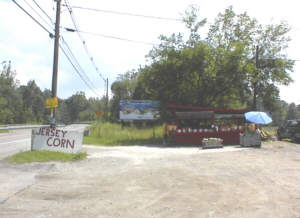 Fruit and vegetable stand near Hardystown, NJ
Sweet Corn is a delicacy found at the many farm stands that spring up every year along the highways and back roads of North Jersey. The silver queen hybrids are the most common type. They measure nine to ten inches long and have tight rows of milky white, small kernels. Sweet Corn begins appearing at roadside farm stands in New Jersey in late June.
Sweet corn needs a fertile, well-drained, moist soil. New Jersey's clay loam is ideal for sweet corn. Sweet corn ready to pick when the kernels are full and "milky" and the ear silks are drying and browning. Usually the corn is ready 18-24 days after silk first shows.
The unusual sweetness occurs because the silver queen and other sweet corn varieties do not turn the sugar into starch during growth. Sweet corn hybrids are produced to slow the conversion of sugar to starch after harvesting.
Most corn is grown for its starch content.. The most common type of corn grown in the United States is the "Dent" corn variety which has a high starch content. The sides of the Dent kernel contain "hard" starch while the crown contains "soft" starch. As the Dent grain matures, the soft starch shrinks causing a characteristic dent. Most of the corn grown in the United States is used for livestock feed or is exported. The corncobs are an important source of furfural, a chemical used in manufacturing nylon fibers and purifying butadiene in the production of synthetic rubber.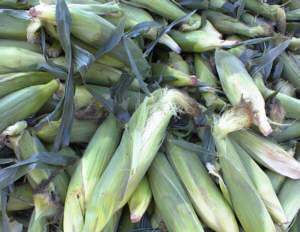 New Jersey sweet corn!
Sweet corn can be prepared in quite a few ways. Among the more popular is barbecuing the corn in the husk or boiling the husked corn in water for 8 to 10 minutes. Either way it is a a delicious taste treat.
---
Driving along Route 23 on July 4, we were able to find some great sweet corn as well as other fresh produce near Hardystown, NJ.
---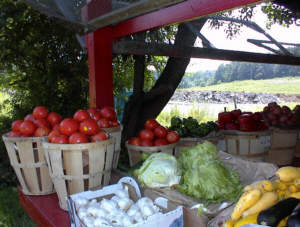 Delicious tomatoes, garlic, eggplant!
Bushel baskets of large, juicy jersey tomatoes greet visitors to North Jersey farm stands as well as peppers, lettuce, apples and squash. Beautiful purple and sweet white eggplants are also for sale. But, local produce is not all there is. Freshly delivered lemons, oranges and mangoes are also available. We filled our basket with these delicious fruits of the Garden State in anticipation of our Independence Day barbecue.
Farm stands with fresh New Jersey produce can be found almost any weekend (some are open weekdays as well) in the summer months. Sweet corn season starts around July first and continues to September fifteenth, although it is sometimes available as late as the middle of October. Many stands are located north of Wayne, New Jersey to the end of route 23 near Port Jervis, New York. Take a scenic drive on route 23 north and don't forget to stock up on the Garden State's summer bounty!
Preparing Fresh Jersey Sweet Corn

Nutritional analysis per serving (77 g, approx. 1 ear, boiled): Calories, 83; Fiber, 2 g; Cholesterol, 0 mg; Sodium, 13 mg; Percent calories from: Protein, 4%; Carbohydrates, 25%; Fat, 10%.


---

• Boiling:

Remove husk and silk threads from corn.
Wash corn with clean water.
Fill large pot 3/4 full with water, boil water.
Add corn, wait til water noils again and time 5 minutes.
Serve with salt and butter.

Tips: Do not add salt to water, do not rinse corn after cooking to cool

---

• Barbecue:

Soak corn with husk attached in water for 10 to 15 minutes.
With corn inside husk or also wrap corn in tin foil, put on grill away from fire.
Cook for 20 minutes depending on heat.
Server with salt and butter.

---

• Cancun Corn:

3/4 cup chopped onions or scallions
1/2 cup chopped fresh parsley leaves
1 large garlic clove, minced
1-1/2 cups Jersey Fresh sweet corn kernels
2-1/2 cups cooked long-grain white or brown rice
1/2 cup chopped fresh cilantro leaves
1 can of tomato sauce, 8 oz. size
1 tsp. mild chili powder
1/4 tsp. dried thyme leaves
1/8 tsp. ground black pepper
1/2 Tbsp. olive oil

In a 12" nonstick skillet, combine scallions, parsley, garlic and oil. Cook over medium heat, stirring frequently, until the scallions are tender. Stir in the corn and cook, stirring, until the corn is heated through. Stir in the cooked rice, cilantro, tomato sauce, chili powder, thyme, and pepper. Simmer and cook for 5 minutes. Serves 5.

Per serving: 207 calories, 0 milligrams cholesterol, 1.9 grams of total fat (8% of calories), 0.3 grams of saturated fat.




NEW JERSEY DEPARTMENT OF AGRICULTURE

---

• Corn Chowder:

2 lbs. white potatoes, diced
4 celery ribs, diced
1 bay leaf
3/4 lbs. onions, finely diced
3 Tbsp. butter
1 green bell pepper, finely diced
2 tsp. cumin seeds
3 Tbsp. flour
1/2 tsp. sage
1/2 tsp. white pepper
2 cups milk
3 ears of Jersey Fresh corn, blanched, and cut from cobs
parsley, finely chopped

Boil potatoes with bay leaf, until just tender in one quart of water. Sauté onions, peppers, celery, and cumin in butter until onions are transparent. Add sage, pepper and flour to the onion mixture with some of the potato water and stir to make a paste. Add potatoes and the rest of the potato water and heat. Add the milk and the corn. Heat thoroughly and garnish with parsley. Serves 14. This is an official 5 a Day recipe.

Nutritional analysis per cup: Calories, 127; Fiber, 5 g; Cholesterol, 8 mg; Sodium, 146 mg; Percent calories from: Protein, 13%; Carbohydrates, 68%; Fat, 19%.




NEW JERSEY DEPARTMENT OF AGRICULTURE

Preparing Fresh Grilled Vegetables

---

• Grilled Carrots:

1 lb. carrots, peeled and sliced into 1/4 inch pieces
2 tablespoons butter
2 tablespoons butter
salt and pepper

Pile carrots onto a large sheet of aluminum foil with butter and honey. Add salt and pepper to taste. Close ingredients in foil and cook indirectly on grill 30 to 45 minutes.

Approximately 4 servings, Nutritional analysis per serving: Calories, 134; Fiber, 3 g; Cholesterol, 16 mg; Sodium, 157 mg; Percent calories from: Protein, 1%; Carbohydrates, 17%; Fat, 6%.


---

• Grilled Green Beans:

1 lb. green beans, rinsed with water and trimmed
2 tablespoons sesame oil
1 tablespoon soy sauce
salt and pepper

1/2 teaspoon sugar
1 tablespoon sesame seeds

Mix soy sauce, sesame seed oil and sugar in small bowl. Pile beans on large sheet of tin foil. Cover beans with soy sauce/sugar/oil mixture and sprinkle with sesame seeds. Close foil and shake to coat beans. Place on grill away from flame and cook for approximately 1/2 hour.

Approximately 4 servings, Nutritional analysis per serving: Calories, 83; Fiber, 4 g; Cholesterol, 0 mg; Sodium, 83 mg; Percent calories from: Protein, 3%; Carbohydrates, 8%; Fat, 5%.


---

• Grilled Asparagus:

1-1/2 lbs. asparagus tops, rinsed with water and trimmed
2 tablespoons olive oil
2 to 4 garlic cloves
salt and pepper

Combine ingredients on large piece of tin foil, close foil, shake to coat. Cook away from flame on grill for approximately 15 minutes.

Approximately 4 servings, Nutritional analysis per serving: Calories, 71; Fiber, 2 g; Cholesterol, 0 mg; Sodium, 139 mg; Percent calories from: Protein, 5%; Carbohydrates, 4%; Fat, 6%.


---

• Grilled Potatoes:

1 to 2 lbs. potatoes, rinsed with water and cut into pieces
3 tablespoons water
1 to 2 tablespoons heavy cream
salt and pepper

1/2 cup sour cream
4 teaspoons dijon mustard

Pile potatoes into large sheet of tin foil with water, salt and pepper. Close foil and place on grill away from heat. Combine remaining ingredients in bowl for the sauce. Remove potatoes form grill after 45 minutes. Place potatoes in serving dish and spoon sauce over top.

Approximately 4 servings, Nutritional analysis per serving: Calories, 248; Fiber, 4 g; Cholesterol, 21 mg; Sodium, 121 mg; Percent calories from: Protein, 7%; Carbohydrates, 33%; Fat, 13%.


---

• Shellfish Barbeque:

2 lbs. mussels, cleaned and washed
2 lbs. littleneck clams, washed
16 large shrimp
2 tbsp. grated fresh ginger



1 tbsp. garlic
1 lime
3/4 cup equal parts cilantro, basil and mint
1/4 cup soy sauce

Preheat grill or roating pan in 450° oven
On double sheet of aluminum foil approximately 1 1/2 sq. ft., pile 1/4 of shrimp, calms, mussels, ginger and garlic. Squeeze limeover top, add 1/4 of spice mixture and wrap tightly. Amount of food should make four aluminum foil "wraps".
Put wraps on grill for 10 to 15 minutes.
Serve over bed of rice.




If you have a Jersey Sweet Corn or grilled vegetable recipe, tell us about it at staff@rt23.com!
Farms in the Northern New Jersey Area

Katterman Farms
Rt 23 South, Sussex, NJ, 973-875-8171


Farm View Roadstand
945 Black Oak Ridge Rd. (Rt 202), Wayne, NJ 973-839-1212


Lucey's Berry Farm
41 Beaver Run Rd., Layfayette, NJ 973-383-4309


Ideal Farm and Garden Centre
Rts. 15 and 206 (Ross' Corner), Layfayette, NJ 973-579-3893


Brook Hollow Farm
Pick your own apples and pumpkins, roadside market. Frog Pond Rd., Hainesburg (Knowlton Twp.) , NJ 908-496-4577


Denville Farms in Warren County
Pick your own apples. 10 Knowlton Rd, Knowlton , NJ 908-459-9869


Donaldson Farms
Pick your own pumpkins, gourds, free wagon rides, and farm store with fresh-baked pies. All Road, Hackettstown, NJ 908-852-9122


Glenview Farm
Pick your own pumpkins, gourds, Indian corn. 2 Glenview Lane, Blairstown, NJ 908-362-6904


Godlewsky Farms and Greenhouses
Pick your own pumpkins. 196 Alphano Road, Great Meadows, NJ 908-637-4927


Suffern Farmers' Market
Commuter Parking Lot Orange Avenue & Lafayette Avenue Suffern, New York - The Suffern Farmers' Market is open every Saturday from the end of June through the end of October. It features locally grown veggies and fruits, organics, plants, fresh baked breads & pies, boutique wines and homemade soaps and shampoos. The market is open from 9AM to 1PM- rain or shine, and features live entertainment on most days! (845) 369-1350

Other Links

5 a Day Center - Have you had your 5 fruits and veggies? 5 A Day is a national health program to encourage you to eat 5 or more servings of fruits and vegetables every day.


New Jersey Department of Agriculture