Revolutionary War
Industrial Revolution
Other Resources
Join Our Mailing List
Keep informed about North Jersey happenings!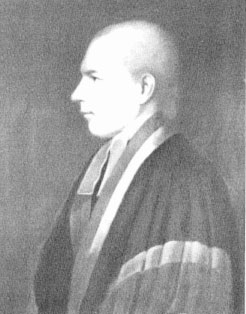 William Paterson
(1745-1806)
---
William Paterson - New Jersey's Second Governor
---
William Paterson was born in County Antrim, Ireland on December 24, 1745. The Paterson family immigrated to the United States in 1747. They settled in Princeton where his father became a shopkeeper. The family prospered in New Jersey and William was able to attend the College of New Jersey, what would later become Princeton University. William studied law and was accepted to the bar in 1769. In 1775, he was chosen to represent Somerset County in New Jersey's Provincial Congress.

William Paterson served in various capacities during the Revolutionary War. He served New Jersey as a member of the legislative council from 1776-77. He was also a member of the Council of Safety (1777-78) which developed and managed New Jersey's military forces for the war. William Paterson was a member of the Somerset County battalion of Minutemen, but he never saw active service.
William Paterson was also an attorney general during this time (1776-1783). As attorney general, William Paterson prosecuted Loyalists and helped to maintain order during a turbulent period in American History. After resigning his post in 1783, he moved to New Brunswick and continued his law practice.
In 1787, William Paterson was sent to the Constitutional Convention as an advocate for New Jersey state and local interests. At the convention, Paterson devised the "New Jersey Plan" with Connecticut's Roger Sherman and other representatives from small states. This plan promoted the idea of equal representation in the legislature for all states. Smaller states rallied behind Paterson's plan. The competing "Virginia Plan" held that representation in the new national legislature should be proportional by population. Larger states backed the "Virginia Plan". The legal and procedural skills William Paterson honed as an attorney led to a compromise. In this "Great Compromise", a bicameral system of government with a House of Representatives based on the proportion and a more powerful Senate chamber with each state represented by two legislators was finally agreed upon. William Paterson became known as the "Father of the United States Senate".
New Jersey chose to send William Paterson to New York as the state's first senator. As a senator, Paterson helped write the Judiciary Act of 1789. He also supported Alexander Hamilton's financial plans for the new country.
When New Jersey's first governor William Livingston died in 1790, William Paterson was a natural choice for the office. William Paterson was a member of the Federalist Party, the same political party as George Washington. During Paterson's tenure, the state capital was transferred to Trenton from Burlington, New Jersey. He also was instrumental in the passage in state assembly of S.U.M. (Society for Establishing Useful Manufacture) which greatly benefited New Jersey. In a letter from Tench Coxe, William Paterson was shown that the needs of the state's growing population would overrun New Jersey's farmlands. The state needed to change from an agricultural to a commercial economy. Alexander Hamilton, Tench Coxe and others approached the New Jersey Assembly with a charter for the new company. The group wanted to build canals where necessary, run lotteries to build capital and be exempt from taxes. These controversial terms where only agreed upon with William Paterson's help. To underscore Paterson's support, the company named the town after the governor.
William Paterson wrote the "Laws of New Jersey" which replaced the English laws which were used in the justice system. Paterson saw the change as an opportunity for social, political and moral reform. He humanized the legal process and built the first state prison in Trenton.
William Paterson resigned his position as governor of New Jersey to accept an appointment as an associate justice of the United States Supreme Court in 1793. He attended court sessions as far away as Savannah, Georgia and took part in many important decisions. He presided over the trials of persons indicted in the Whiskey Rebellion. The Whiskey Rebellion was a revolt by farmers in western Pennsylvania over the federal excise tax on whiskey, the principal product of their cash crop. George Washington stopped the rebellion using federal troops. The courts had to decide the roll of the army in civil disturbances. These decisions defined the federal government's authority over states and established the courts authority over federal and state legislation.
William Paterson remained on the federal court until his death in Albany, New York on September 9, 1806. William Paterson is memorialized today as the namesake of Paterson, New Jersey and William Paterson University in Wayne, New Jersey.
Sources
• Governors of New Jersey
• New Jersey Historical Commission. The Governors of New Jersey 1664-1974: Biographical Essays. Trenton, NJ, The Commission, 1982. Paul A. Stellhorn and Michael J. Birkner, Editors.
• The Reader's Companion to American History by Eric Foner (Editor), John A. Garraty (Editor), Houghton Mifflin,1991
• Soldier-Statesmen of the Constitution, by Robert K. Wright, Jr. and Morris J. MacGregor, Jr. Center of Military History United States Army Washington, D.C., 1987
Related Links
Dey Mansion Photo Gallery - Photos of the interior and exterior of Dey Mansion in Wayne, New Jersey
Wick House Photo Gallery - Photos of the interior and exterior of the Wick House in Morristown, New Jersey
Joseph Bloomfield - Revolutionary War leader and New Jersey's fourth governor
William Paterson - Statesman and New Jersey's second governor
Arthur St. Clair - General of the Continental Army
1776 New Jersey Constitution - First constitution of the state of New Jersey
Maps of Northern New Jersey - Historic and other maps of Northern New Jersey
Search rt23.com's North Jersey Directory for Museums and Historical Sites
Search rt23.com's North Jersey Events Calendar
The Reader's Companion to American History by Eric Foner (Editor), John A. Garraty (Editor), Houghton Mifflin,1991

This Time, Tempe Wick? by Patricia Lee Gauch, Margot Tomes, Depicts the indomitable spirit of a young girl, Tempe Wick, as she saves her beloved horse from the mutinous soldiers of Jockey Hollow during the American Revolution. Childrens Book, ages 4-8.